Welcome to Palm Beach Aquatics and Physical Therapy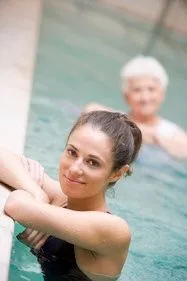 Boynton beach and Delray Beach Physical Therapy
Welcome to Palm Beach Aquatics And Physical Therapy. The leading provider of Physical Therapy and Aquatic Therapy services in Boynton Beach and Delray Beach for over 20 years.

Our goal for our Boynton Beach and Delray Beach Physical Therapy patients is to educate you about your condition and the role physical therapy and/or aquatic therapy plays in your recovery. We understand that patients respond very differently to treatments, even if their ailments are similar. Our team of doctors of physical therapy and physical therapy assistants are skilled and trained in a variety of advanced techniques, allowing them the ability to design a very specific plan of action to meet your needs, goals and unique medical condition. We have developed long term relationships with many of the physicians in the Palm Beach County community (many of whom have referred their family and friends, or treated with us themselves). Our physical therapists are in constant communication with referring physicians and other therapists throughout patients treatment to provide the highest level of coordinated care.
You, the patient, are our primary concern. Our Boynton Beach location offers private therapy rooms and a heated indoor pool(88-92 degrees) where our patients receive one-on-one personalized attention during each and every visit. No group therapy ! Our therapists believe our one-on-one hands-on approach is the best method for improving your mobility and getting you back to your normal activities as quickly as possible.
Our physical therapists and physical therapist assistants will teach you natural solutions to common health problems. They'll encourage you to take a proactive and responsible role in restoring and maintaining your own health and to live a more active and fulfilling lifestyle.
Finding a qualified Physical Therapist in Boynton Beach and Delray Beach who understands changing health care needs is an important decision. At Palm Beach Aquatics and Physical Therapy, we'll always strive to exceed your expectations of quality care. Read below what local physicians and patients have to say about Palm Beach Aquatics and Physical Therapy.