About-Aquatic-Therapy
Aquatic Therapy Benefits Boynton Beach Location
At Palm Beach Aquatics and Physical Therapy, we have a state-of-the-art aquatic therapy pool at our Boynton Beach location. Aquatic therapy provides patients the perfect atmosphere for early intervention, exercise, and activities designed specifically to achieve the best possible patient outcome.
After an illness, injury, or surgery, a patient's sensitivity to pain may be increased or the ability to bear weight on the injured area limited. In water, the pull of gravity on the body is not as strong as on land, therefore motion and functional activity are much more comfortable. Water supports the body, reduces joint stress, and provides resistance and assistance to movement. Patients can improve mobility, strength, and function rapidly during the healing process. Our Palm Beach Aquatics and Physical Therapy Team is ARTI Aquatic Therapeutic Exercise Certified. This specialty specific training ensures patients with orthopedic, neurological, and post surgical conditions receive the most appropriate and best aquatic therapy experience possible.
Call Palm Beach Aquatics and Physical Therapy Boynton Beach, Florida (561)742-3283 or Delray Beach, Florida (561)865-2800 TODAY!

Benefits Aquatic Therapy include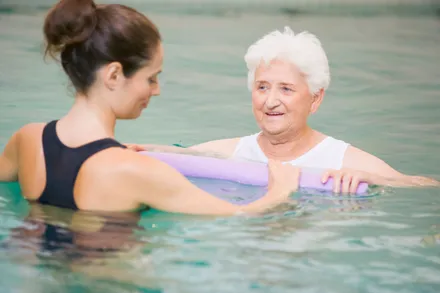 Increased cardiovascular function

Reduced stress on joints and body

Decreased swelling

Increased circulation

Increased strength and endurance

Increased range of motion and flexibility

Increased balance and coordination


Though aquatic therapy is not recommended for certain medical conditions, the vast majority of patients can participate. Individuals with a variety of disabilities and orthopedic conditions can participate in aquatic therapy. Those with back injuries or chronic back problems, shoulder injuries, hip and knee injuries, ankle injuries, strokes, Multiple Sclerosis, Parkinson's Disease, Fall Risk and those who have undergone orthopedic surgeries (post surgical shoulder, back, hip, knee's and ankle), patients that have undergone shoulder, hip, knee and ankle replacement surgeries are just a few of the individuals who may benefit from aquatic therapy. Other conditions treated with aquatic therapy include: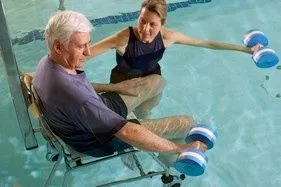 Chronic fatigue syndrome

Fibromyalgia

Guillian Barre syndrome

Muscular dystrophy

Arthritis

Pregnancy

Obesity